LIFE ENERGY Equipment
Beneficial 'Life Force Energy' from your LifeEnergy generator Equipment
Sharing is caring!
.
Motto / Quote
"There is a powerful driving force inside every human being that once unleashed can make any vision, dream, or desire a reality."
Tony Robbins


.
How to Use The Emotional Guidance Scale

The Emotional Guidance Scale is the perfect solution when you want to proactively get yourself out of an emotional downward spiral.
Some common advice we receive when we're feeling anxious or stressed out are things like "just try to think positively" or "everything will be alright".
While these sayings are nice, sometimes you need something more tangible to help you raise your vibration and feel better. This is where the Emotional Guidance Scale comes in.

What Is The Emotional Guidance Scale?
The Emotional Guidance Scale is a scale of our feelings and emotions, in sequence from our highest vibrational feelings to our lowest.
It is broken down into 22 of the most common emotions from emotions with the highest vibration (joy) to emotions with the lowest vibration (powerlessness).
According to the Law of Vibration, everything in this world is made up of energy that is vibrating at a specific frequency.
And your emotions are your barometer for measuring the vibration you are currently in.
The Emotional Guidance Scale was developed and popularized by Abraham Hicks in the book "Ask and It Is Given".
This book will help you learn how to manifest your desires so that you're living the joyous and fulfilling life you deserve.

The Emotional Guidance Scale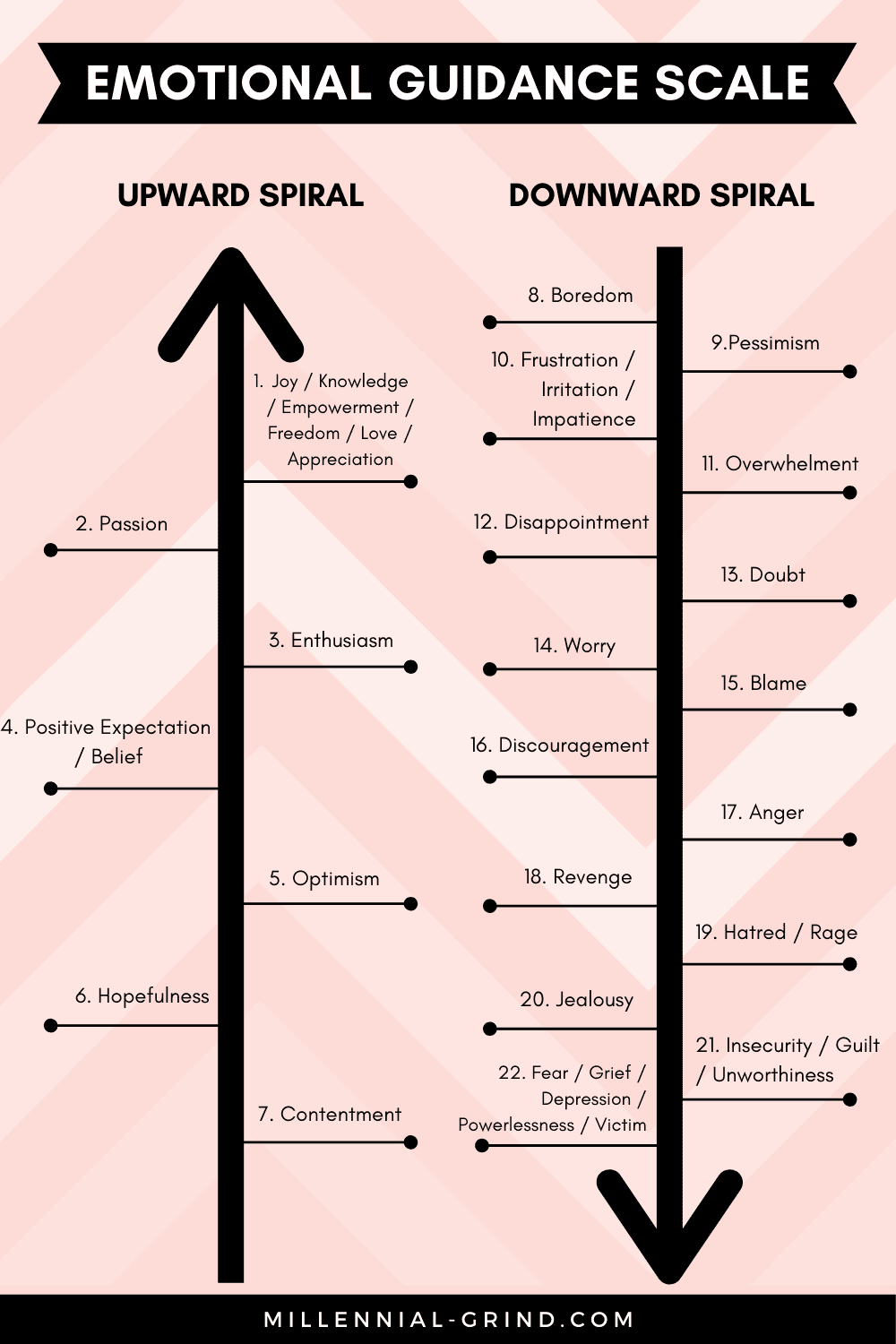 Joy / Knowledge / Empowerment / Freedom / Love / Appreciation
Passion
Enthusiasm
Positive Expectation / Belief
Optimism
Hopefulness
Contentment
Boredom
Pessimism
Frustration / Irritation / Impatience
Overwhelment
Disappointment
Doubt
Worry
Blame
Discouragement
Anger
Revenge
Hatred/Rage
Jealousy
Insecurity / Guilt / Unworthiness
Fear / Grief / Desperation / Despair / Powerlessness

How To Use The Emotional Guidance Scale?
Using The Emotional Guidance Scale is kind of like climbing a ladder.
You start at the bottom (the emotion you're currently identifying with) and make your way to the top, one step at a time.
When you want to feel better, you can simply identify where you are on the Emotional Guidance Scale and instantly reach for better-feeling thoughts that lead to better-feeling emotions.
Once you're feeling stable in a new emotion, you've successfully moved up the scale.
Then you continue the practice of reaching for a better-feeling thought and moving up the scale to a higher-vibration emotion.

Step 1: Identify Your Current Emotion
Look at The Emotional Guidance Scale and identify which state of emotion you are currently in.
You may feel multiple emotions at once, but choose the one you resonate with the most at that very moment.

Step 2: Acknowledge and Forgive Yourself
Acknowledge how you are feeling and forgive yourself for feeling that way.
Don't beat yourself up for feeling that negative emotion; instead, give thanks that you are able to recognize that you were in a negative mindset, and you have the opportunity to reach for a better feeling.

Step 3: Slowly Move Upwards
Refer back to The Emotional Guidance Scale and look at emotions above your current state.
Don't try to immediately jump to an emotion that's too high on the scale; the key here is to move slowly.
Every shift you make pulls you closer and closer to that upward spiral.

Tips for climbing The Emotional Guidance Scale:
1. Say a prayer "Thank you, Universe, for showing me I'm out of alignment with my power. I choose to see peace instead of this. I will step back and let you lead the way."
2. Approach the situation using the next better-feeling emotion.
3. Reflect to see if this is a learning assignment presented to you from The Universe.
4. Distract yourself and go do something that feels good and brings you joy.

Celebrate Every Small Win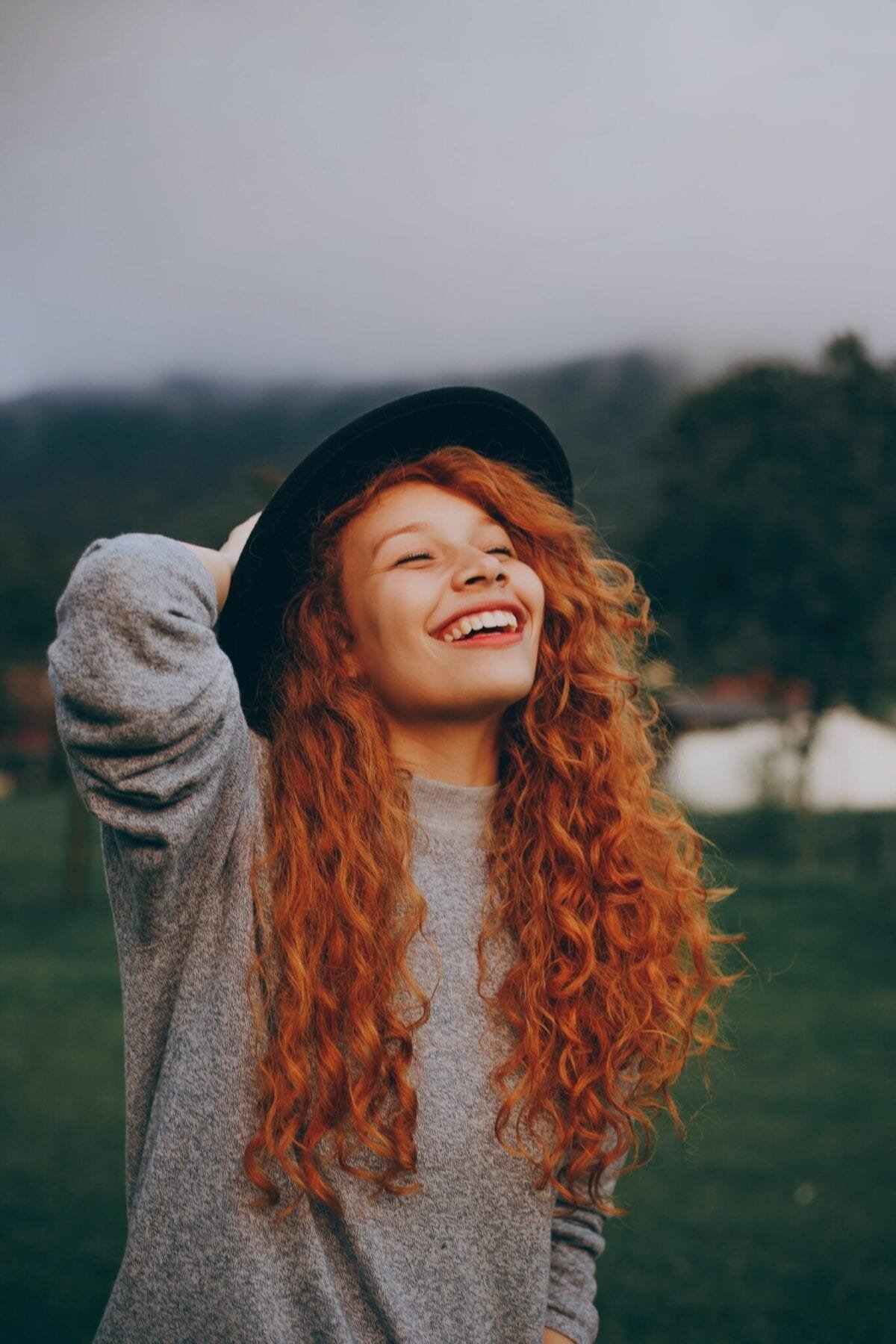 Be proud of yourself every time you successfully move up the scale.
By showing high-vibe emotions like enthusiasm and optimism for your practice, you will be able to move up the scale more quickly.
The upward spiral of emotions is kind of like a vacuum, as you build momentum towards it, it becomes easier and easier to reach the top.
Soon, it will become natural for you to reach for better-feeling emotions and vibrate upwards towards joy.

"The very second we choose a loving thought, our emotions shift and our energy changes. This is realignment with the Universe." – Gabrielle Bernstein

Many thanks to Kenneth Wong: Manifestation coach and self-help book author.
Courtesy to https://millennial-grind.com/30-i-am-affirmations-for-manifestation/
---
.
.
Motto / Quote
:
"All you need is the plan, the road map, and the courage to press on to your destination."
Earl Nightingale


.


Life Energy & Life Force

Equipments Special Accessories
Chi Vitality Cards®
Powerful & continuous flow of Chi- (Life)Energy & Vitality for you, -directly- in your pocket and / or billfold; at the best & lowest price! This is Your personal Vitality Chi Card!
~

Subscription: $7.79 / month


(Renews until you cancel)
now -also- on your computer, tablet & 'smart phone' / mobile phone !
* Chi Vitality Card(s) will be sent by email.
** Let us know the name you would like to have on the Chi Vitality Card.
.
.
Chi Vitality Card™
#1
valid- and active one month: $7.97
.
Chi Vitality Card™
(Chi Vitality Card & chi energy + symbol)
Example:
+
=
A New Love
Symbols for: Love, Stress relief, Charisma, Concentration, Energy & Vitalitity, Success, Gambling, Protection, Safe trip, Optimism & Success, etc., etc.
See other Symbols
»

symbols
: $2 /pcs.
5 symbols: 8$, 10 symbols: 16$, 20 symbols: 34$
Orders by Email



Chi Vitality Card

™
on your computer, tablet & 'smart phone' / mobile phone !
(Yes, with this performant technology, and with our help, now this is also possible! ;-))
*
Chi Vitality Card
(s) will be sent by
email
.
**
Let us know
the
name
you would like to be on the personal
Chi Vitality Card
®.
We are widely open to collaborate with self development coaches who would like to help their customers with
(life)energy & vitality
or anybody who want to help others and themself for a better and successful life.
Inquiries by
emails
for
Chi Vitality Cards
are welcome!
.

Marketing slogan

Living water that is super-charged with Life Force & Life Energy (chi / qi, prana, mana, od, orgone, bio-energy, etc.) means beneficial change on every level, more energy and significant improvements of vitality!


~
.
Life Energy & Life Force Equipments
powered with- and boosted by Vital Generators; the Chi Generators® & Prana Generators® & Orgone Generators®
AO 1100 | AO 2000
JU 99 | JU 1000 | LPOG 2400 DL | LPOG 2400 HD | PFC 2000 & PFC 2400 | Performer / Sport Performer 2400 HD
RAD 1000 | RAD 2000 | RAD 2400 HD
RAD 5 / ATG 5 | ATG 12 / ATGS 12000
Order now to gain all advantages and benefits what this mystical Life Energy & Life Force (and -implicitly- the Life Energy & Life Force Equipments) can provide and could offer !
Contact... »»
.
---
---
18.10.2021